My mind is so fucked up right now. D:

If you have read the ARENA 37C HYENA interview translation @
gazette_media, then you must have read about their desired hairstyles, yes? If not then go read it. 8D



Ruki, you wanted long, yes? Idk, maybe we can reconsider. ♥ Ruki > Orlando Bloom.

...Although now that i've mentioned it, I think I wanna make an LOTR!Gazette. =D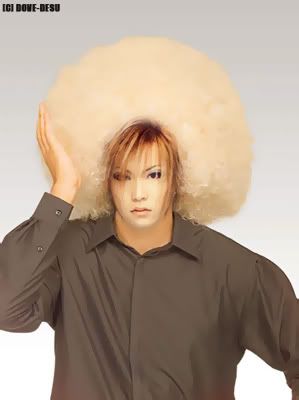 OK, THIS ONE. I CAN'T DO THIS RIGHT. THIS JUST ISN'T WORKING, BB. I'VE BEEN DOING IT TIME AND AGAIN BUT IT LOOKS AN AFRO!VAGINA IDK.

WILL ANYONE MAKE AN AFRO!URU PLEASE? DDDD:

/caps abuse

I can't do anymore... Ungh, here are the hair styles for the three. WAAAAAH PLEASE DO EET, ANYONE? LOLMAO~~~~~ REITA, AOI and KAI. Hahah, yeah that is Nao, but from what the translator said a body perm is sumthn like eeet...

And before I forget.







...GOD BLESS, PPLZ. XDDD
Feeling:
determined
Jamming to: TH - DDM